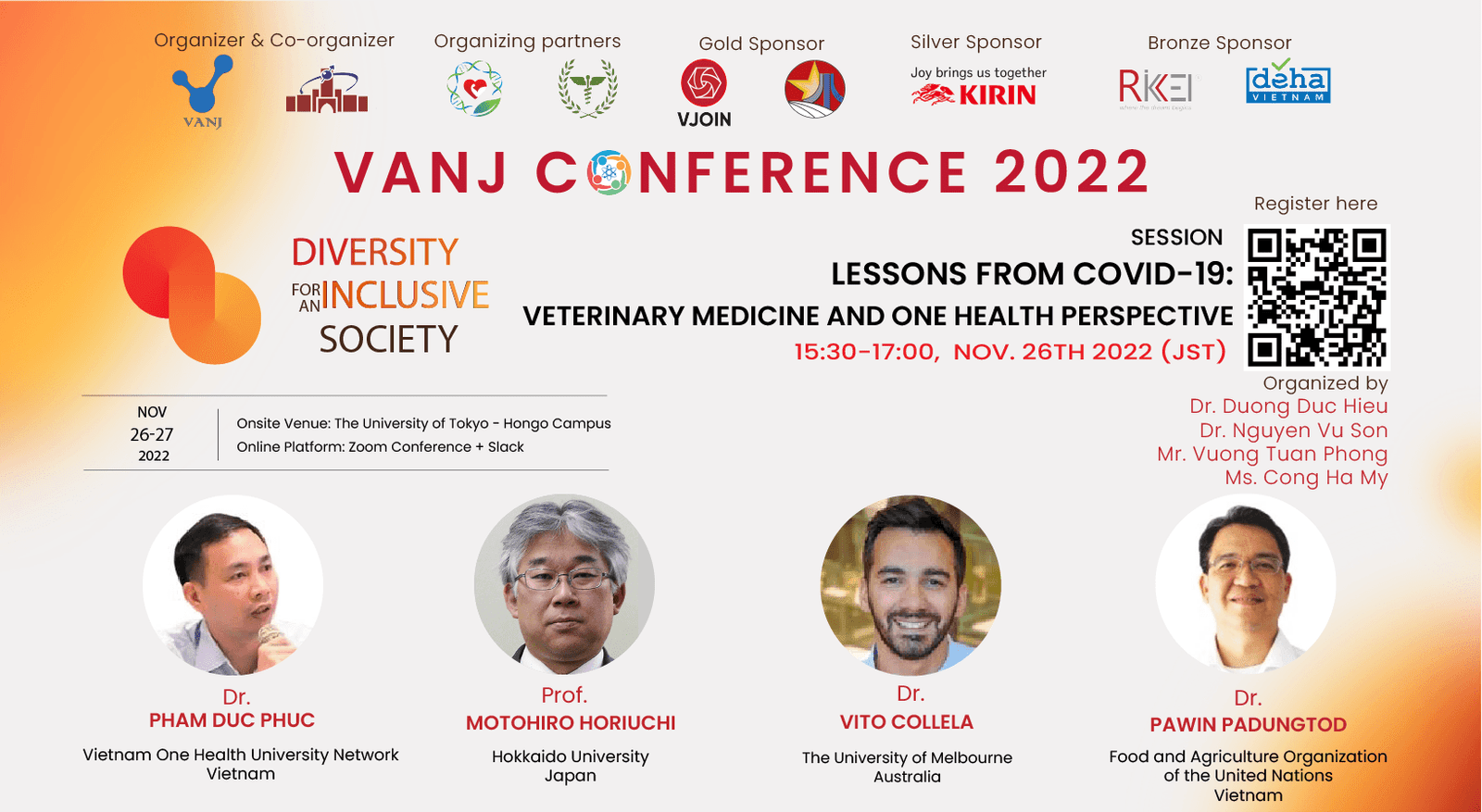 Lessons from Covid 19: Veterinary Medicine and One Health perspective
Session introduction: https://conf.vanj.jp/2022/timetable/event/veterinary-medicine/
On the afternoon of November 26, 2022, a session with the topic "Lessons from Covid 19: Veterinary Medicine and One Health perspective" took place lively with presentations from three prestigious scientists in the field of Veterinary Medicine.
Opening the seminar, Assoc. Prof. Bui Tran Anh Dao – Dean of the Faculty of Veterinary Medicine, Vietnam National University of Agriculture, Chair of the Vietnam One Health University Network (VOHUN) – expressed his wish that the conference would be a forum for everyone to discuss the One Health initiative – multidisciplinary, interdisciplinary and collaborative approach to achieving optimal health, and encouraging students to learn and develop skills throughout the conference.
The first guest, Professor Motohiro Horiuchi from the Department of Veterinary Medicine, Hokkaido University, Japan gave an opening presentation about the WISE Education Program – "One Health Frontier Graduate School of Excellence", which seeks to expand the human resource base needed to detect and respond to potential pandemic disease outbreaks using the One Health approach. Prof. Horiuchi also highlighted some of the activities of the WISE program. The presentation attracted the attention of not only medical and veterinary experts, but also inspired lecturers and veterinary students in particular. 
Next, Dr. Pham Duc Phuc – VOHUN Program Coordinator (Vietnam One Health University Network) emphasized the role of One Health force in ensuring global health security, with specific examples of training programs for experts, staff and students in Vietnam.
The third guest speaker, Dr. Pawin Padungtod – Technical Coordinator at the Food and Agriculture Organization of the United Nations (FAO) gave a presentation on zoonotic diseases in Vietnam and raised the issue. He suggested implementing One Health approaches to confront emerging and re-emerging zoonotic disease threats in Vietnam in the future. 
The discussion session attracted more than 30 online attendees and more than 60 on-site attendees at the Vietnam National University of Agriculture. The issues discussed in the program were not only from the online audiences but also had a special interaction between the guest speakers and students from the University who are interested in the field of One Health.