Monthly updates on VANJ's events and information from VANJ members (e.g., research and social achievements, enrollment and recruitment status of academic institutions and companies, etc.)
日本語の情報については、ニュースの下半分を参照してください。
======================= English version below ================================
VANJ members talked in "Things every student needs" at VJSE 2022
Dr. Ta Duc Tung gave a talk at FED Talk, FPT University Alumni in Japan
Mr. Nguyen The Anh: Best Paper Award
ACTIVITIES
VANJ members talked in the session "Things every student needs" at VJSE 2022
The 12th Vietnam – Japan Scientific Exchange Meeting (VJSE) 2022, entitled "Connecting the Present, Shaping the Future" was held online in zoom on 17/09/2022. In the session "Things every student needs", VANJ members, including Ms. Nguyen Hanh Nhung (Nepon Inc.) as the MC and Dr. Ngo Minh Chu (Postdoctoral researcher at Advanced Industrial Science and Technology, Nagoya), Dr. Tran Phuong Thao (Postdoctoral researcher at National Institute for Environmental Studies, Tsukuba), and Mr. Pham Van Phong (Master student at Graduate Institute for Entrepreneurial Studies, Niigata) as invited speakers, shared their experiences in studying, researching, scholarship applying and working to adapting to Japanese culture during the time they live in Japan. The session provided a comprehensive view of student life to working life in Japan for Vietnamese students, who are considering coming to Japan.
Ms. Nguyen Hanh Nhung, Dr. Ngo Minh Chu, Dr. Tran Phuong Thao, and Mr. Pham Van Phong are currently administrative members of VANJ (2022~).
Dr. Ta Duc Tung gave a talk at FED Talk, an event for FPT University Alumni in Japan
Dr. Ta Duc Tung, currently an Assistant Professor at The University of Tokyo, gave a talk sharing his experience in daily life with family, studying, and working as an academic in Japan on FED Talk "Nguoi oi nguoi o hay ve?", an event organized by FPT University Alumni in Japan on 10/09/2022.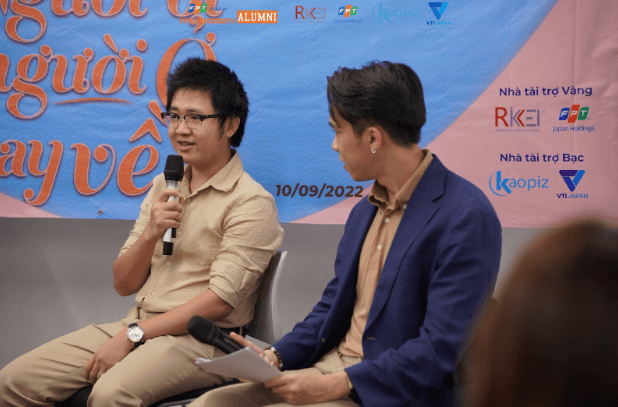 For more detail:
https://daihoc.fpt.edu.vn/chuyen-song-chuyen-nghe-cua-cuu-sinh-vien-dh-fpt-tai-nhat-ban/
Assist. Prof. Ta Duc Tung is a Board of Director member (2022~) and he will be chairman of the Organizer Committee for the VANJ conference 2022.
ACHIEVEMENTS
Mr. Nguyen The Anh: Best Paper Award
Mr. Nguyen The Anh, Ph.D. candidate at Tokyo Metropolitan University, won the Best paper award for his research on "Near-field of convective plumes from a locally heating source in water" at The 16th International conference on heat transfer, fluid mechanics and thermodynamics (HEFAT) and Editorial Board for Applied Thermal Engineering (ATE).
Mr.  Nguyen The Anh is currently a Board of Director member and head of Seminar in VANJ (2022~)
======================= 以下のニュースの日本語版 ==================
ニュースレター 2022/09
VANJメンバーからの毎月アップデート情報やイベント(研究・社会実績、入学・入社等 )
アクティビティ
VANJメンバーがゲストスピーカーとして第12回日越科学交流会(VJSE 2022)に参加しました
第12回日越科学交流会 (VJSE 2022)は2022年9月22日にZOOMにてオンライン開催、「現在をつなぎ、未来を方向づける」をメインテーマとしました。「留学生に必要なもの」セッションには、 ゲストスピーカーとして、VANJメンバーの Ngo Minh Chuさん(国立研究開発法人産業技術総合研究所(名古屋) 特任研究員)、Tran Phuong Thaoさん(国立研究開発法人国立環境研究所(筑波) 特任研究員), Pham Van Phongさん(事業創造大学院大学(新潟) 修士学生)が参加しました。 司会者 Nguyen Hanh Nhungさん(ネポン株式会社)もVANJメンバーです。講演者らは、勉強・研究・奨学金申請の経験から、就職・日本文化の体験まで共有しました。 このセッションは、日本に留学の志望があるベトナム人の学生に、日本の生活についてより全体的な見方を与え、また、彼らが日本で勉強したい・働きたいというモチベーションを与えたでしょう。
Nguyen Hanh Nhung、 Ngo Minh Chu、 Tran Phuong Thao、Pham Van Phong 全員は現在VANJ運営委員会に勤めています (2022~)
Ta Duc Tung はスピーカーとして FPTU Alumniが主催した FED Talk に参加しまた
東京大学Ta Duc Tung助教は2022年9月10日に、 FPTU Alumni Japan (在日FPT大学卒業生同窓会)に主催された FED Talk "Người ơi người ở hay về?"(あなたはとどまるか、戻ってくるか?)が掲題されたミートアップに、日本での勉強・研究・仕事のことにおけるTungさんと家族の経験について共有しました。
Ta Duc Tungは現在VANJ運営委員会の役員兼データベース部長です(2022~)。また、彼はVANJ Conference 2022実行委員会の会長です。
実績
Nguyen The Anh: Best Paper Award
東京都立大学 機械工学 博士後期の Nguyen The Anhさんは「The 16th International conference on heat transfer, fluid mechanics and thermodynamics (HEFAT) and Editorial board for Applied Thermal engineering (ATE)」の国際学会のBest Paper Award (最優秀論文賞)を受賞しました。研究のタイトルは 「Near-field of convective plumes from a locally heating source in water」でした。
Nguyen The Anhは現在VANJ運営委員会の役員兼セミナー部長です(2022~)。
Editor/原作者: Thao Tran P. (Publication – VANJ)
Postdoctoral Fellow, National Institute for Environmental Studies, Japan
Contact: pthao222@gmail.com;
https://www.linkedin.com/in/thao-tran-p-101265178/
和訳者: Nguyen Hanh Nhung (グエン・ハン・ニユン)、VANJ
ネポン株式会社
連絡先: https://www.linkedin.com/in/hanh-nhung-nguyen-4265141b4/